Limited Spaces Available…
Get The Techniques, Concepts, And Feedback To Accelerate Your Jiu Jitsu…
From: Tom Barlow
RE: Rolling With Tom
Dear Jiu Jitsu Player,
As I'm sure you're aware, making consistent improvements in your Jiu Jitsu can be a frustrating experience. This is something I've experienced throughout my Jiu Jitsu journey.
Whether it's trying to figure out what you should be working on? Or how you should be training? Or why do you keep getting caught in submissions? We all struggle.
Some people get lucky and have access to a great instructor, who teaches in a structured, logical way, and is always there to answer the questions.
BUT a lot of people don't.
Consequently, their progression is slow and they're limited to what they can find searching the YouTubes or expensive instructional videos.
The best way to make consistent development in your Jiu Jitsu is through a structured training plan, expert guidance, and then doing the training.
After watching people struggle with these problems, and going through them myself, I decided to do something about it and create the group I wish I'd had when I was coming up through the Jiu Jitsu ranks.
Introducing:

→ Join Rolling With Tom Now!
As a member of Rolling With Tom you'll get everything you need to consistently improve your BJJ including:
(1) Daily Access.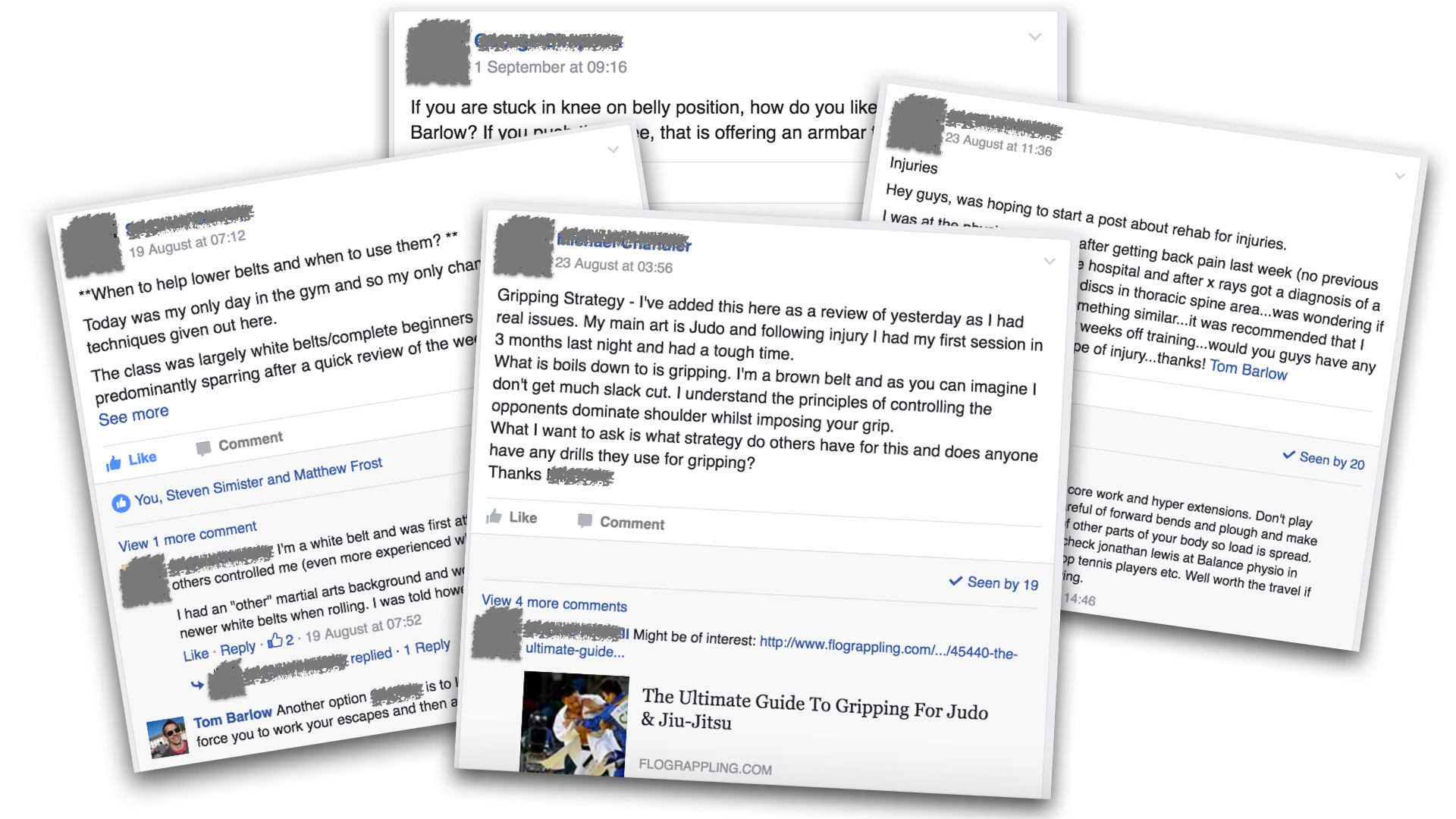 Me and my expert friends will be in the group every day to answer your questions and solve your problems quickly.
You will be able to solve your sticking points and problems quicker than ever before.
---
(2) Accountability.
Staying on track with your training can be hard. However, it's much easier if you're accountable to someone.
By posting your training goals in the group myself and the other members of the group will hold you accountable to do what you say you're going to do.
Consequently, you'll be able to stay focused on your goals and achieve them faster.
---
(3) Feedback and Analysis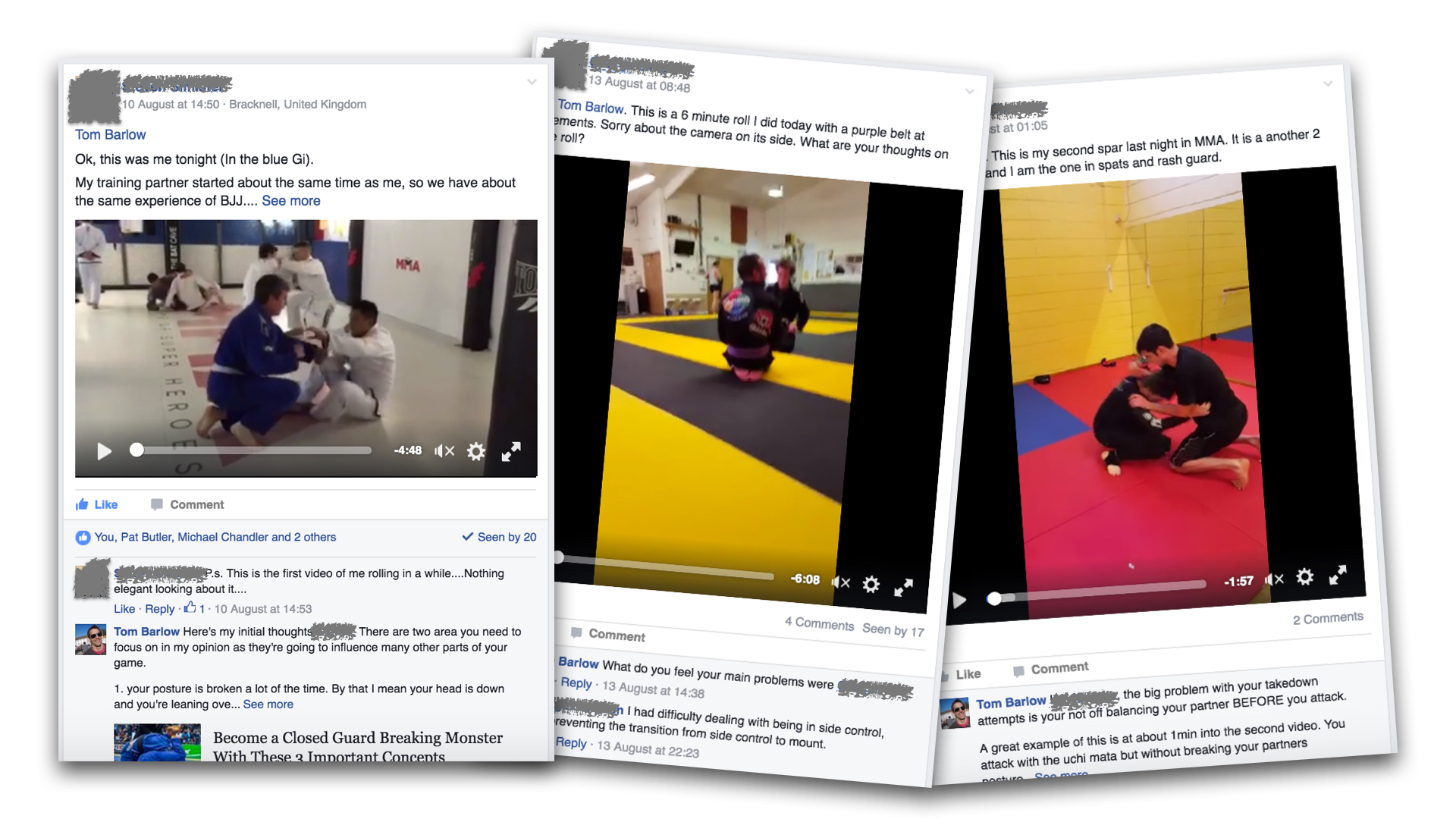 The faster you can get feedback on the problems you encounter, the faster you can move past them. There are two ways you can get feedback.
Firstly, if you keep encountering the same problem in your training, or you're struggling with a technique, film a short video outlining the situation and upload it to the group. I can then give you the solution to your problem and training options to move past the problem.
Secondly, you can upload a video of you in competition or sparring. I can then watch the footage and give you feedback on where best to focus your development.
---
(4) Instructional's, Seminar's, and Workshops
I've spent a small fortune developing my Jiu Jitsu, and, as a member of the group, you'll get access to a tonne of instructional content as fast as I can create it.
But I'm not that arrogant to think I know all, which is why I'll be 'convincing' my friends to provide additional instructional material.
The goal of all this content is to fill in any gaps in your knowledge and allow you to continually develop.
---
(5) Weekly Check In
Sharing your success is important for the growth of your confidence, plus reflecting on the previous weeks training will reinforce what you've accomplished, also good for your confidence.
This is exactly what the weekly check-in is for, you can share your highs, your lows, and where you need to improve.
---
(6) Training Plans.
One of the big problems with most online training programmes is they have no structure for you to follow.
The training plans solve this problem.
These are daily 15 – 20 minute plans that will give you a structured way to continually develop your Jiu Jitsu.
If you're an instructor, these can be expanded into full classes for your students.
---
(7) 20% of ALL Future Digital Products
Because you're worth it.
---
(8) Ask Me Anything Webinars, Live Streams, and Posts
These could be live seminars, techniques, problem-solving session, or anything else that I think you'll find valuable.
The best thing about them is they'll be interactive so you can ask questions in real-time.
---
(9) The Simple Submission System
Do you need to improve your submission rate? The Simple Submission System will allow you to do just that.
It gives you a complete blueprint for increasing your submission rate by focusing on just one position.
And you can catch that position from just about any position and against anyone of any size.
---
(10) The Simple Passing System
We all know passing the guard can be a very frustrating experience.
The Simple Passing System gives you a clear route to passing the guard regardless of how flexible your opponent is or the type of guard they're using. will allow you to do just that.
It gives you a complete blueprint to increasing your passing rate by focusing on just one position.
---
(11) The Game Analysis Sheet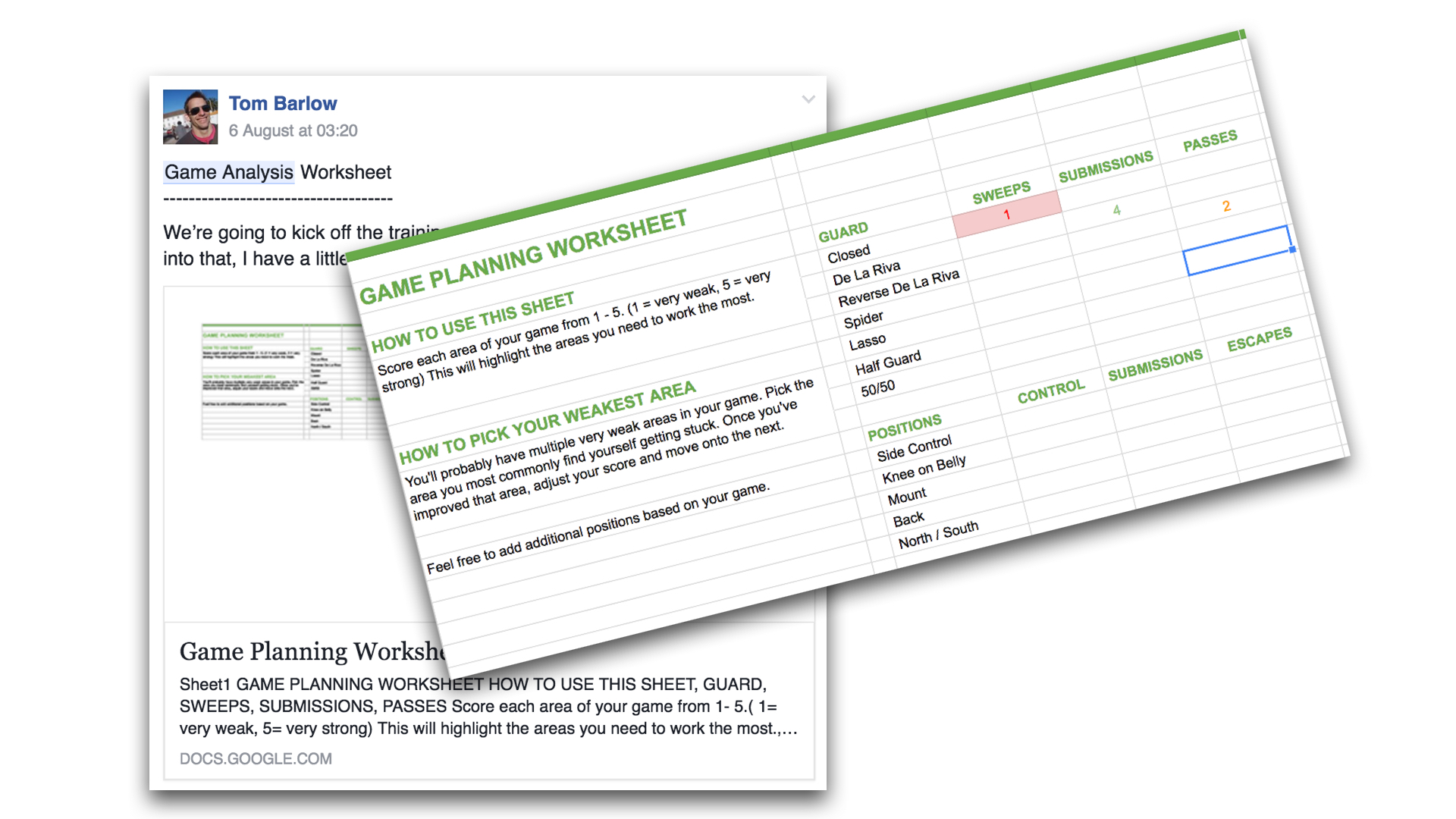 Knowing where you need to develop is essential to developing your Jiu Jitsu.
The Game Analysis sheet will give you an easy way to keep track of where you need to improve and where you should focus your time.
The sheet is interactive so as you develop it will the area's you most need to improve.
---
(12) Competition Analysis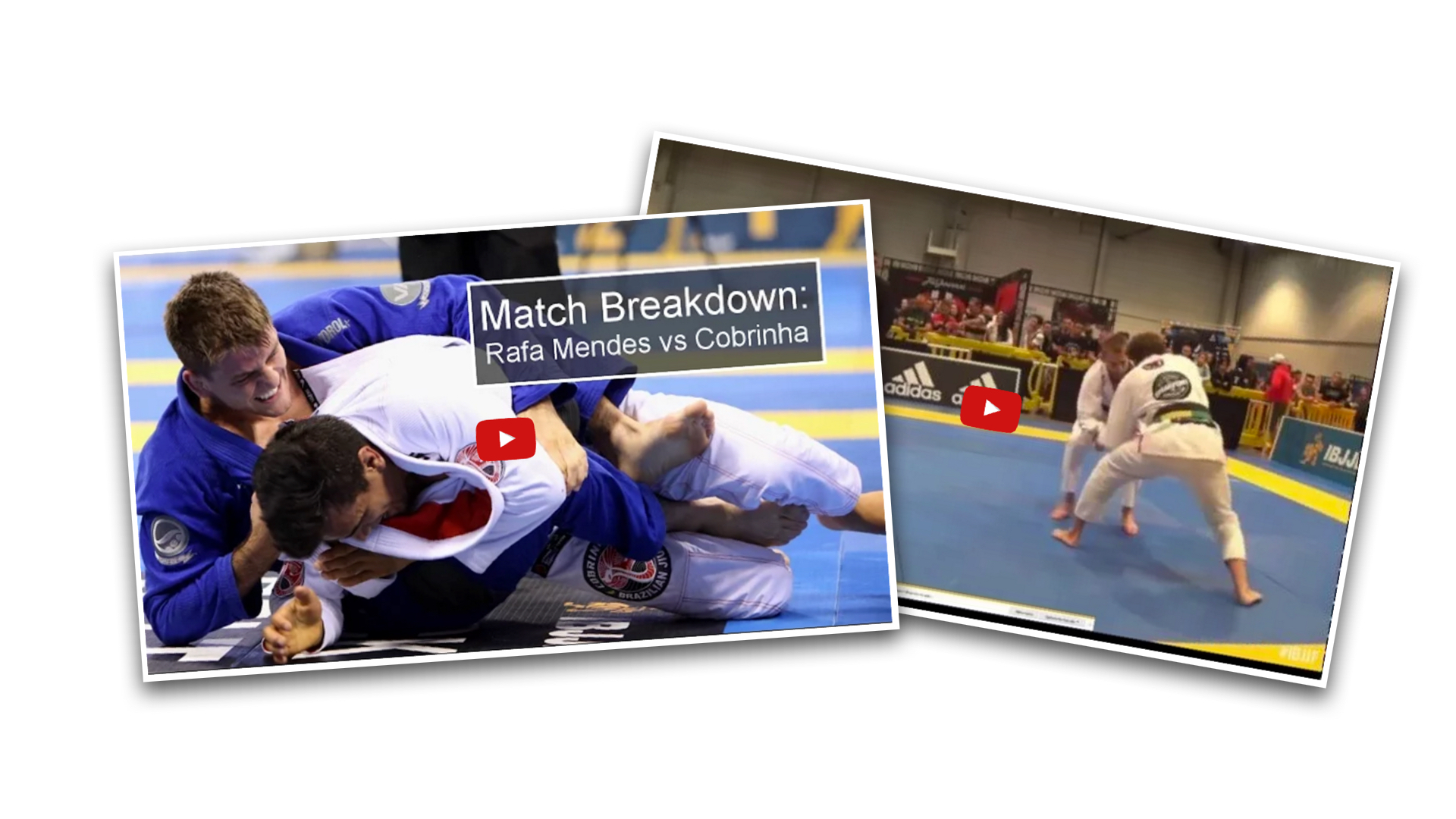 Competition is where you see exactly what works and under what circumstances but only if you know how to look for it.
I will be regularly posting match breakdowns featuring some of the world's greatest Jiu Jitsu players.
On top of that, I will highlight the key areas so you can use the same techniques.
---
Rolling With Tom Is Unique…
You may be wondering how Rolling With Tom stack's up against other membership sites. The simple answer is there is no comparison.
Most other membership sites are solely about giving information or learning a Champions game, but you get no interaction and no feedback from them.
While you will get access to an ever-expanding library of instructional footage that's not the main benefit of Rolling With Tom
The major benefit to the group is your ability to get YOUR questions answered quickly, and guidance on the best way is to overcome your obstacles. This is what makes Rolling with Tom so unique, and so beneficial to you.
I will be available every day to answer your questions and give you my perspective on Jiu Jitsu. Plus the other members of the group will be there to support you and offer their advice.
The bottom line is information is everywhere but getting specific solutions to YOUR problems can be very difficult to find. That's where Rolling With Tom comes in.
But Don't Take My Word For It…
But don't just take my word for it, here's what current members are saying:
'I joined this group as I have lots of holes in my game. I love BJJ and have a solid commitment to my Gym, however, I needed something else.
YouTube is great for looking at random videos, but this group focuses on specific techniques, concentrated along a definitive learning path, which compliments my gym instructors and helps me focus.
The feedback is invaluable and allows me to gain second opinions on technical improvements, as well as a differing style of instruction."
– Steven S.
---
I joined the group because I struggle to get to classes regularly. I tried doing my own thing but it lacked structure and sometimes I would stop until the next class.
Since joining the group I have rarely had a day where I haven't at least done the drills or looked at the technical guidance. And in only a month there has been an improvement.
I was concerned at first that I'd pay and not see any benefit. I was wrong and look forward to remaining a part of Rolling with Tom.
– Michael C.
---
I go to my BJJ gym multiple times a week so my main purpose to joining RWT was to help formulate what I learn into a game plan when rolling as I would like to try competitions (eventually).
I also joined with the broad goal of improving all aspects of my BJJ. As a low-level white belt, I learn all these grappling techniques and try to apply them when sparring, but do not really see how they all fit together in a coherent way.
There are three components of RWT that have helped me the most so far:
1) Breakdown by Tom of recorded BJJ matches between professionals or myself rolling in the gym.
2) Structure given to learning BJJ (such as specific flow drills)
3) Online support meaning that Tom is available for any BJJ questions I have, and we report what we have achieved and failed at throughout the week (giving accountability to our BJJ training).
Admittedly, I was a little skeptical at first on how much help RWT would be, but I now find RWT an indispensable tool to assist in my BJJ journey.
– George S.
---
Only 100 10 Spaces Left
As I said before, Rolling With Tom is about trying to help as many people as possible reach their full potential and give them the support I lacked as I was coming up through the ranks.
I bust my a$$ to help the members any way I can.
But to ensure I'm consistently able to do this, I'm capping the group at 100 peeps. After that, it will be one in, one out.
Limiting the group size will ensure I deliver to the best of my abilities, and have the resources to re-invest in the group.
Stop BANGING Your Head Against The Wall Hoping To Break Through!
Join Rolling With Tom and start making consistent improvements to your Jiu Jitsu today.
The next 100 10 people that join will get access to Rolling with Tom, all the instructional content, the training plans, the feedback, competition analysis, and everything else I think will be beneficial to you for £7.00 then only £17 per month after that.
Interested?
Click the button below to create your account and get started right now. It's 100% secure checkout.
And if for any reason, you don't think this group is worth the price, you can leave at any time.
See you on the inside,
To get started, click the button below and create your account.
Join Rolling With Tom Now
Or if you'd prefer to pay with PayPal click the button below.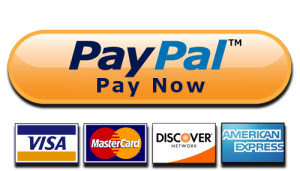 (If you're paying via PayPal, email me directly at tom@tombarlowonline.com for you log in details once you've completed your checkout)
30 Day Test Drive?
I want you to be thrilled about being a Rolling With Tom member. And I want it to be truly beneficial to your Jiu Jitsu.
So if you don't think Rolling With Tom is worth price just let me know within 30 day's and I'll refund your £7 no questions asked.
Oh, and you're not locked into any kind of contract, so you can cancel at any time.